Complete Story

09/07/2022
OCTA Spotlight: Carfagna's Broadband Legacy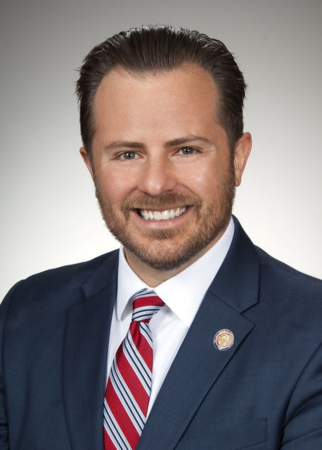 Almost immediately after he was sworn in as a new member of the Ohio House of Representatives in 2017, then-rookie Rep. Rick Carfagna began his legislative crusade to help all Ohioans get access to quality, high-speed broadband service, no matter where they live.
Through his private sector experience with OCTA member Charter Communications (previously Time Warner Cable), Rick saw firsthand the many complex challenges that stymied broadband expansion, especially in rural areas. He carried this expertise with him to the Ohio House, using it to educate his colleagues on broadband issues, while advocating for new public-private partnerships aimed at helping broadband providers reach unserved areas of the state.
"I found myself in the unique position of understanding the financial barriers holding back providers, while also advocating as a township trustee for my constituents without broadband options," remarked Carfagna. "High-speed internet is the great social equalizer of our time, it instantaneously brings knowledge, marketplaces, and people together across oceans. The lack of broadband availability continues to deprive a large segment of Ohio's population of employment, education, and healthcare opportunities. It's a statewide problem not just because these deficiencies cut across all geographies, but also because we're throttling Ohio's economic growth by failing to fully leverage our workforce and site options."
Over the course of the 132nd and 133rd General Assemblies, Rick's broadband grant program bills gained traction and built support, only to stall before the end of each session. Undeterred, in February 2021 – nearly five years after introducing his first broadband grant program bill – Rick and co-sponsor Rep. Brian Stewart introduced Ohio House Bill 2. That May, Rick joined Gov. Mike DeWine and Lt. Gov. Jon Husted at a special bill signing ceremony celebrating the creation of Ohio's Residential Broadband Expansion Grant Program.
"It was a validation of the severity of a decades' long problem, while also delivering on the commitment by the DeWine/Husted Administration to bring this life-changing infrastructure to so many," recalled Carfagna. "On a personal level, it was the culmination of five years' work across my campaign for state office and three legislative cycles. Under term limits, you have a finite amount of time to tackle an ambitious issue, so to take this concept from handwritten scribble on a pad of paper to a $270 million infrastructure program was deeply fulfilling."
Within five months of the bill's enactment, Ohio's new broadband grant program was up and running, backed by $270 million to support expansion projects throughout unserved and underserved areas of the state. Following an extensive grant application and review process, the state's broadband office, BroadbandOhio, announced its first round of grant funding in March 2022. All told, 33 grant awards are supporting projects that promise to deliver high-speed internet access to more than 43,000 households. When combined with other project commitments made by broadband providers, including many OCTA members, roughly 230,000 Ohioans across 62 counties will gain access to high-speed internet thanks to these broadband expansion investments.
In early 2022, Rick left the Ohio House of Representatives to take on a new role as senior vice president of government affairs for the Ohio Chamber of Commerce. As an advocate for Ohio's business community, Rick has maintained a focus on broadband and its impact on our state's economic prosperity.
OCTA thanks Rick for his service in the Ohio House and for his dogged pursuit of business-friendly policies aimed at spurring broadband investments across Ohio. His hard work continues to make an impact and thousands of Ohio families are the beneficiaries.
---